Landscape Design - "DIY Paradise"
"To plant a garden is to believe in tomorrow." Audrey Hepburn

The dirty truth - landscaping is enormously important! Landscaping not only brings freshness, charm and beauty to your home that you can enjoy for years and years, it really does increase your home's market value. A home that's cozy, comfortable and relaxing is everyone's dream, and a well designed landscape can help you achieve just that! PLUS, it can make a world of difference by improving the first impression of your home (and of YOU) as soon as someone drives or walks by. A landscape that is beautiful and eye-catching is as pleasant for neighbors and visitors as it is for you.

The happy truth - a beautifully designed landscape contributes significantly to our well-being and quality of life too! Studies prove that living within an aesthetically pleasing environment is relaxing, rejuvenating and joyful. AND can help reduce your stress by simply looking at it!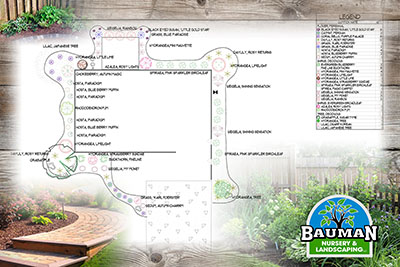 Click to Enlarge
The Bauman Nursery & Landscaping truth - we are more than just plants at our nursery on the farm! For those of you who want to tackle a DIY (Do-It-Yourself) landscape project, we are more than ready to be your friendly, knowledgeable resource partner to help guide you turning your home and yard into a fun, attractive outdoor paradise. As long as you have the time, patience, budget and THE RIGHT INFORMATION, landscaping/gardening doesn't have to be tricky or scary. We're here for you! We can get the ball rolling or, better yet, get your dirt moving and roots growing! Not sure where to start and how to get there? Bauman Nursery & Landscaping is like Google Maps - we give you the roadmap with turn by turn directions to get you where you want to go. Regardless of the color of your thumb, we can be your personal, OTC (Over-The-Counter) garden coach and guide you through the creation, your installation and on going care. From our plain language, easy-to-follow instruction at our nursery to your install of the plan and plants at your home, we'll give you great happy results!
What do you do now?
Call Us
Call us & schedule a FREE consult for a DIY Paradise - Landscape Design. Meanwhile, some things for you to ponder and prepare for your paradise:
How much time will you devote to your paradise?
How much do you want to spend - budget?
Measurement of the general dimension of the area you wish to landscape
Rough sketch of the area to be worked including permanent features (house, shed, dog house, clothesline, driveway, walkways, decks/patios, large trees, existing plants, hose bibs, AC units, etc.)
Take photos from many different views
Direction the area faces (north, south, east, west)
Amount of sun the area receives
Other Mother Nature elements - wind, moisture, soil condition, slope contour
Wildlife problems?
Colors - of permanent features & flowers/plants you like and don't like
Want to bring on bees, butterflies, birds?
Have any ripped out pages from magazines or copied images from websites of landscapes or plants you like?
Landscape Design Questionnaire

Please bring this completed Questionnaire to your scheduled landscape appointment along with measurements, sketch of the area & any images/pictures you've saved and/or collected from magazines/web. The more details you provide, the better we understand your "paradise" & goals.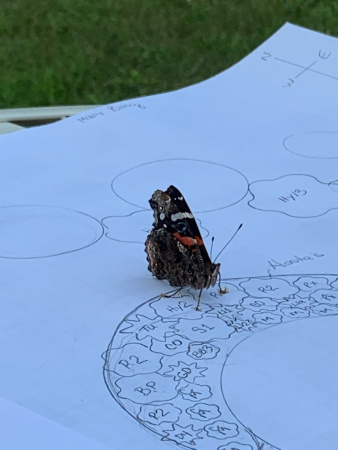 Click to Enlarge
Design Plan
Once you tell us the nitty gritty, landscape elements important to you and your lifestyle , we'll design the landscape plan and list plant recommendations. How sweet it is that we can even show you the plants in our nursery and gardens! We can make your DIY Paradise plan as simple and convenient as you want, from a hand sketched layout to a professional computerized blueprint plan. After pep talk from us, your garden coach, you're ready to install! We're rooting for you!

"We might think we are nurturing our garden, but of course it's our garden that is really nurturing us." Jenny Uglow
221584 Fairfield Drive | Edgar, WI 54426 | Debbie Cell: 715-897-3508 | Dave Cell: 715-897-2775
Email: db_369@msn.com or Message Debbie: Bauman Nursery & Landscaping's Facebook Page

SEE OUR PHOTO GALLERIES for Landscape Design