Hostas
Our Favorite!
Hostas are one of the most renowned of all perennials and are a must have for shade gardens. So many people only think there are two kinds of hosta: Green, and white and green. They are hugely mistaken! Incredibly, there are 5000+ different kinds of hosta in an amazing palette of colors, sizes from miniatures to giants, textures and flowers. They are a wonderful compliment to other shade perennials such as ferns, bleeding hearts and coral bells. Amazingly, there are now some newer varieties that even like sun!
You really can find a hosta that fits evey sort of landscape. Miniature hostas work wonderfully in troughs, containers or the increasingly popular fairy garden. Giant hostas make a spectacular, eye-catching landscape specimen. Hostas can easily become an addiction!
We invite you to walk through our hosta gardens and enjoy our 'labor-of-love' collection of hostas—which just continues to grow and grow! We welcome any questions you may have about this extraordinary, easy to care for perennial. If there is a particular hosta that you are looking for that we do not have, rest assured we probably want it too - we will find and order it for you.
PS We're often asked about "blue" hosta - the plant having color shade of blue. Blue hostas require the most protection from the sun. The blue-colored hostas have a waxy coating on its leaves. The waxy coating gives the green leaves a blueish tint. In full, hot sun, this waxy coating melts and exposes the green leaf underneath, changing the color of your plant from blue to green. If the waxy coating melts away, it can expose the leaves and may lead to sunburned leaves. Avoid spraying the leaves with a pesticide or fertilizer, this can also cause the waxy coating to melt.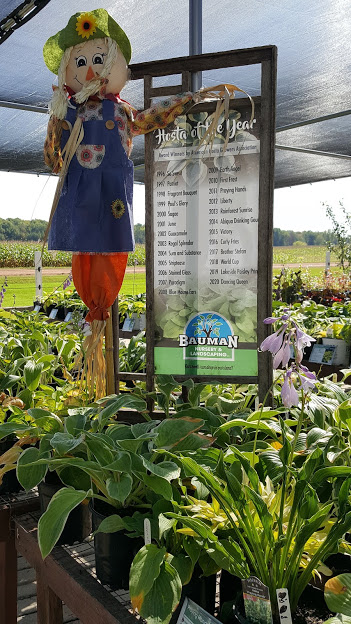 Hosta of the Year
Pearl Lake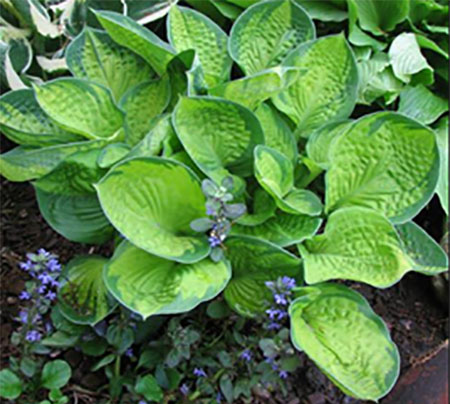 Rainforest Sunrise