Welcome to our website!
On behalf of Bauman Nursery & Landscaping LLC, we're delighted you're visiting us and letting us share our very personal, core passions with you – living in the country, preserving the family farm, working with plants of all sizes and colors, and beautifying our precious God given land. This family business is founded on our unrelenting labor of love to uphold and protect these passions, while re-purposing our family dairy farm. All of us at Bauman Nursery & Landscaping LLC are committed to excellent customer care and working hard to do things right! Our goal is simple - to exceed your expectations. Your satisfaction, trust and loyalty are as important to us as sustaining our passions!

Thank you again for visiting our website! Return visits are FREE too, and a great way to check on what's happening at Bauman Nursery & Landscaping
…
Events (Watch here for more details coming soon!)
Sprout Out Opening weekend - April 30, 2021 to May 2, 2021
Mother's Day Weekend Specials - May 7, 2021 to May 9, 2021
Annual Bare Root Tree Sale - April 30, 2021 to May 9, 2021


NEW

Bloomfest on the Farm - June 18, 2021 to June 19, 2021
Harvest Hangout - mid September dates TBA
Christmas Barn - Kickoff November 18, 2021 for 3 weekends (Fridays, Saturdays, Sundays)
Plus....
Can You Dig It! monthly interactive & fun classes


NEW

Grace in the Garden take a moment for yourself to reflect, renew, rejuvenate in our gardens at monthly fellowship
Events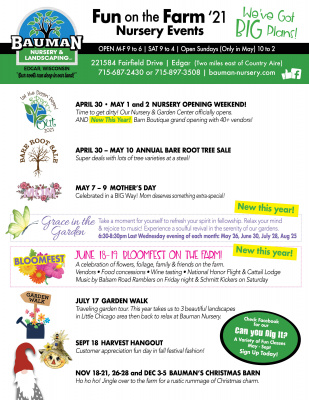 From April 30th when we officially open, SPROUT OUT, to December 5th when we officially close the CHRISTMAS BARN, c'mon over and enjoy lots of fun at Bauman Nursery - our little piece of heaven on Fairfield Drive. We love our farm, our land, our nursery, our plants, our family, having fun and you, our customer. Please share the good news of all we are passionate about with those you love too!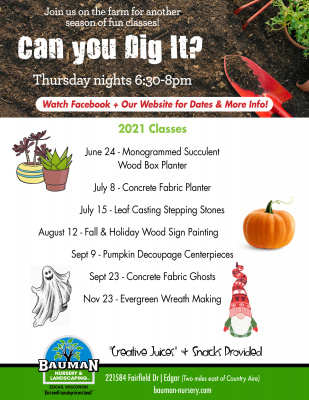 'Can You Dig It'
i
s what we call our super fun, play til your done workshops/classes that we offer at our nursery. We host these designing, crafting play days at least once a month. Can You Dig It is generally after hours on Thursdays from 6:30-8:30pm with RSVP/sign up required. We publish a detailed Can You Dig It class description including date, time, cost and what you're responsible for 2-3 weeks prior to each class right here on our website's home page and our Facebook page. We hope you join us for more Fun on the Farm!
Make your own Reversible Holiday Sign - September 9th