Welcome to our website!
On behalf of Bauman Nursery & Landscaping LLC, we're delighted you're visiting us and letting us share our very personal, core passions with you – living in the country, preserving the family farm, working with plants of all sizes and colors, and beautifying our precious God given land. This family business is founded on our unrelenting labor of love to uphold and protect these passions, while re-purposing our family dairy farm. All of us at Bauman Nursery & Landscaping LLC are committed to excellent customer care and working hard to do things right! Our goal is simple - to exceed your expectations. Your satisfaction, trust and loyalty are as important to us as sustaining our passions!

Thank you again for visiting our website! Return visits are FREE too, and a great way to check on what's happening at Bauman Nursery & Landscaping…
Events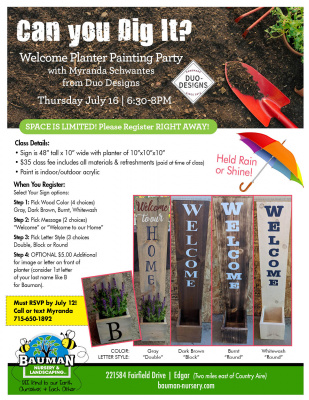 Sign up to make a rustic wood welcome planter to charm your front door. Local sign maker, Myranda Schwantes, will give you fun, step by step instructions while you enjoy the cooler temps of the early evening....oh, and some tasty refreshments!

Registration BY July 12 is a MUST by calling or texting Myranda directly at 715-650-1892! Can You Dig It cost of $35.00 paid at time of class.

C'mon and howl like Boomer with the rest of us!