Welcome to our website!
On behalf of Bauman Nursery & Landscaping LLC, we're delighted you're visiting us and letting us share our very personal, core passions with you – living in the country, preserving the family farm, working with plants of all sizes and colors, and beautifying our precious God given land. This family business is founded on our unrelenting labor of love to uphold and protect these passions, while re-purposing our family dairy farm. All of us at Bauman Nursery & Landscaping LLC are committed to excellent customer care and working hard to do things right! Our goal is simple - to exceed your expectations. Your satisfaction, trust and loyalty are as important to us as sustaining our passions!

Thank you again for visiting our website! Return visits are FREE too, and a great way to check on what's happening during our fun filled season at Bauman Nursery & Landscaping
…
Events 2023
Sprout Out Celebration Opening Weekend| May 5th - May 7th
Mother's Day Weekend | May 12th - 14th (All Roses are 15% off!)
Annual Bare Root Tree Sale | April 28th - May 7th or until gone!
Country Roads Concert Series| Last Wednesday nights in the Summer |June 28th; July 26th & August 30th 5:30pm - 8:00pm
Have fun-on-the-farm while you Refresh & Rejuvenate in our gardens during our monthly musical jam soiree!
Bloomfest | Daily sales of a selected plant in full, captivating, beautiful bloom during the early weeks of June!
Midsummer's Night Garden Party | Saturday, July 29th 5:00pm - 10:30pm
Harvest Hangout | Saturday, September 16th 9:00am - 4:00pm
Christmas Barn | 3 weekends - November 16th - 19th, 24th - 26th & December 1st - 3rd
Plus....
Can You Dig It! Monthly interactive & fun workshops. Details and sign-ups will be on our Facebook page!



We'd love you to Follow, Like & Share us on Facebook for nursery news, plant posts, exciting events and special offers! Connecting with you is what strive and thrive to do, just like the roots of our plants to our land.
Events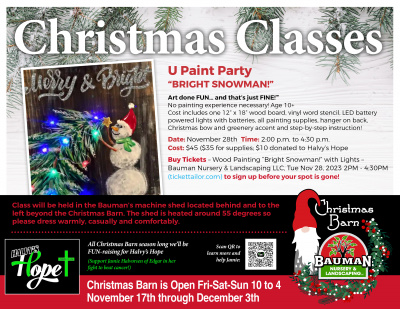 Learn to paint like Van Gogh! Don't BRUSH off this fun, step by step instructed workshop!
Tuesday, Nov. 28th from 2:00-4:30pm
You must register by simply clicking on this "ticket link" - https://www.tickettailor.com/events/upaintandparty/1059521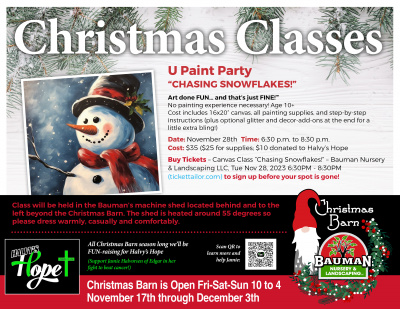 Ho Ho Ho...this fun painting party class is a must to Go Go Go! See you soon!
Tuesday, Nov. 28th from 6:30-8:30pm
You must register by simply clicking on this "ticket link" - https://www.tickettailor.com/events/upaintandparty/1059831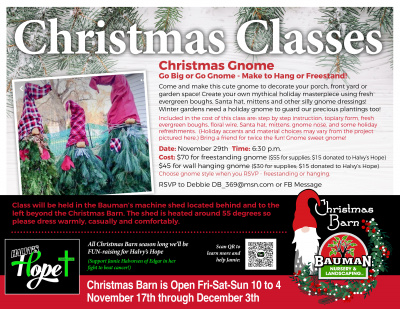 Wednesday, Nov. 29th from 6:30-8:30pm
C'mon out to Bauman Christmas Barn for this workshop. Get your jolly on as you play with fresh evergreen boughs, Santa hat, mittens, and other silly gnome dressings to create your one of a kind gnome for your home!
Folks, remember we're all about FUNdraising for Jamie Halvorsen of Edgar as she fights to beat cancer. $15 of your class fee will be donated to Jamie via Halvy's Hope.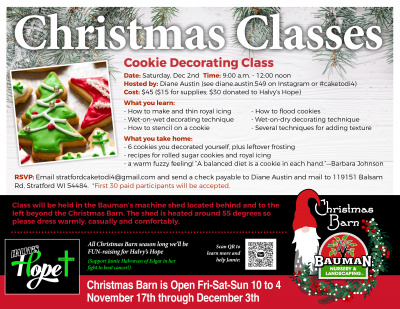 Saturday, Dec 2nd from 9am-12pm
Learn how to make fabulously decorated Christmas cut out cookies that will have your guests staring in amazement! This class
is back by popular demand at our Christmas Barn! Special thanks to our 'sweet' friend, Diane Austin, for teaching you her cookie secrets...well, some of 'em!
Her cookies will SLEIGH you because they're so SANTA-mental! C'mon join the fun because who can resist going home with yummy cookies, leftover frosting
AND recipes!
"A balanced diet is a cookie in each hand!"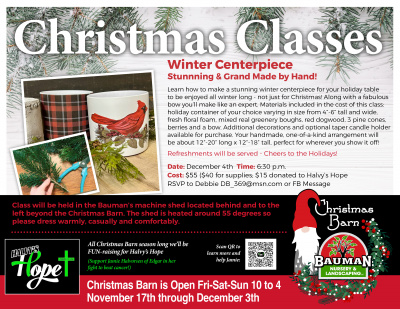 Monday, Dec. 4th from 6:30-8:30pm
Learn how to make an arrangement that's not just only for Christmas but all winter long! With dynamite step by step instruction by our own fabulously talented floral design expert, Kris Coleman, you'll create an extra special, stunning and grand, made by hand, arrangement. You'll end up thinking 'wow, I never thought I could do it!' Santa will even smile!